Imagine twirling your fork in a warm, heaping plate of noodles. Each strand glazed with a luscious, spicy-tangy sauce; earthy shiitake mushrooms adding a punch of flavor; crisp bok choy offering a pleasant crunch. All this, without a shred of animal product involved. Yes, we're talking about Vegan DanDan Noodles, an irresistible delicacy that will make you rethink the boundaries of vegan cuisine.
Origin and Cultural Significance
Hailing from the spicy kitchens of Sichuan in China, Dan Dan Noodles, or 'dandanmian', initially started as a humble, street-side meal. Traditional versions, loaded with pork and spicy broth, held the taste buds of foodies captive. But then came an innovative spin, reimagining this traditional dish for the contemporary vegan palate. The result? Vegan DanDan Noodles – a testament to culinary creativity.
The Magic Behind Vegan Dan Dan Noodles
What's extraordinary about these Vegan DanDan Noodles is their ability to mimic the depth and complexity of the original, while adhering strictly to plant-based ingredients. Wheat noodles serve as a robust base, cooked to perfection and tossed in a tantalizing sauce. The sauce, a fragrant medley of soy sauce, tahini paste, rice vinegar, chili oil, and vegetable broth, packs an irresistible punch. Finely chopped shiitake mushrooms replace meat, providing a satisfying umami flavor. This is vegan food like you've never experienced before.
Substitutions and Variations: Making it Your Own
While the classic Vegan DanDan Noodles recipe hits the right notes, there's ample room to play around. Substitute wheat noodles with soba or zucchini noodles for a gluten-free version. Swap shiitake with other mushrooms or tofu for a different texture. Or add in extra veggies for a nutritional boost. These are just a few tweaks that can help tailor this delectable dish to your personal preference.
Health Benefits: Tasty and Nutritious
Vegan DanDan Noodles don't just impress in terms of flavor; they also provide a healthful feast. Each serving packs in proteins, vitamins, and fiber, thanks to the generous use of vegetables and mushrooms. It's a hearty, balanced meal that proves healthy eating doesn't have to be boring.
Making Ahead: A Busy Cook's Dream
Good news for those pressed for time; you can prepare the components of Vegan DanDan Noodles ahead of time. Cook the noodles and make the sauce a day in advance, then toss them together when ready to serve. It's a perfect solution for weekday meals or sudden dinner plans.
Embark on a Culinary Adventure
Dive into the rich, umami flavors of Vegan DanDan Noodles, and let this innovative dish whisk you away on an unforgettable culinary journey. Whether you're a seasoned vegan cook or a curious food enthusiast, you'll find this recipe easy to follow and remarkably rewarding. Embrace the diversity of vegan cuisine and discover how each forkful of these delectable noodles redefines the extraordinary world of plant-based cooking.
A Story Etched in Flavors
The culinary scene in Sichuan is nothing short of a legend. Here, Dan Dan Noodles were born, warming up hearts with a unique amalgamation of flavors. Yet, our beloved Vegan DanDan Noodles dish is no traditionalist. This dish embraces the vibrant vegan ethos, marrying it beautifully with time-tested Chinese flavors. The result? A plate of noodles that tells a tale of tradition and innovation.
Dissecting the Vegan Dan Dan Noodles
Vegan DanDan Noodles have an uncanny charm that lies in their simplicity and depth. Picture this: perfectly cooked noodles, a sauce that dances between tangy and spicy, and an assortment of textures brought in by shiitake mushrooms and bok choy. Oh, and did I mention? It's entirely plant-based!
Your Canvas, Your Creation
The beauty of Vegan DanDan Noodles is not confined to its traditional recipe. It's a canvas, awaiting your creative touch. Tofu instead of mushrooms, or perhaps zucchini noodles for a low-carb variant? The choices are endless, allowing you to tailor this delightful dish to your preference.
The Wellness Wonders of Vegan Dan Dan Noodles
Vegan Dan Dan Noodles doesn't just hit the right notes on the palate; it's a nutritional powerhouse, too. With an array of vegetables, fiber-rich noodles, and a protein punch from the mushrooms, you've got a well-rounded, nourishing meal on your plate.
Meal Prep Simplified
Time is of the essence, and Vegan Dan Dan Noodles get it. With a little bit of planning, you can meal prep the components ahead of time. Toss everything together when you're ready to feast, and voila! A quick, homemade meal that tastes like it's straight from a street-side stall in Sichuan.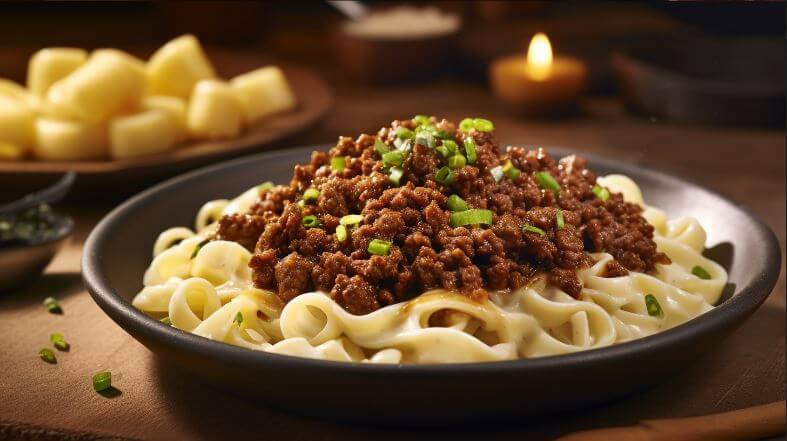 Wrapping up Our Vegan Dan Dan Noodles Saga
This is more than just a recipe; it's a gateway to explore the vibrant world of vegan cuisine. Whether you're an ardent vegan or just a curious foodie, Vegan Dan Dan Noodles promise a culinary adventure unlike any other.
7 Lazy Keto Meals: A Guide to Effortless Low-Carb LivingThe Thrifty Gourmet's Guide: 7 Cheap Keto Meals to Satisfy Your Cravings
Check out our must try Keto Shrimp and Zucchini Noodles in Peanut Sauce that you'll surely love!
You might also like this recipe Vegan Dan Dan Foodles from Serious Eats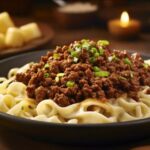 Print Recipe
Vegan Dan Dan Noodles
This Vegan Dan Dan Noodles recipe is a delightful, plant-based version of the traditional Chinese dish, providing a quick and satisfying meal. It combines the hearty textures of wheat noodles and shiitake mushrooms with a flavor-packed sauce made from soy sauce, tahini paste, rice vinegar, chili oil, and vegetable broth. The dish is garnished with chopped green onions and a pinch of ground Sichuan peppercorns, adding an aromatic finish. Each serving of this easy-to-make dish contains approximately 55g of net carbs and 450 calories. The recipe serves four, with a total prep time of 15 minutes and a cook time of 20 minutes. Perfect for vegan beginners, it offers a blend of taste, health, and convenience.
Ingredients
200

g

dried wheat noodles

1

cup

shiitake mushrooms

finely chopped

1

tablespoon

vegetable oil

2

cloves

garlic

minced

1

teaspoon

grated ginger

1

tablespoon

soy sauce

2

tablespoons

tahini paste

1

tablespoon

rice vinegar

1

tablespoon

chili oil

adjust according to your spice preference

1

cup

vegetable broth

2

cups

chopped bok choy

2

green onions

chopped

A pinch of ground Sichuan peppercorns

Salt

to taste
Instructions
Begin by cooking the dried wheat noodles as per package instructions. Once done, drain and set aside.

While the noodles are cooking, heat the vegetable oil in a pan over medium heat. Add the finely chopped shiitake mushrooms, garlic, and ginger to the pan. Sauté until the mushrooms are cooked and the aromatics are fragrant.

In a bowl, mix together the soy sauce, tahini paste, rice vinegar, chili oil, and vegetable broth. Stir until smooth to make the sauce.

Pour the sauce into the pan with the mushrooms, garlic, and ginger. Stir well and let the sauce simmer for about 5 minutes to allow the flavors to combine.

Add the chopped bok choy to the pan and cook for another 2-3 minutes, or until the bok choy is wilted and cooked.

Divide the cooked noodles between four bowls. Pour equal amounts of the sauce over the noodles in each bowl.

Top each bowl with a sprinkling of chopped green onions and a pinch of ground Sichuan peppercorns.

Serve hot, adjust the salt to your liking, and enjoy your delicious Vegan Dan Dan Noodles!
Notes
Net Carb Per Serving: Approx. 55g Calorie Per Serving: Approx. 450