Let's embark on a flavorful journey as we reimagine the quintessential holiday dessert – the pecan pie. Now, imagine relishing every mouthful without a morsel of guilt. Sound like a dream? Welcome to the reality of our ketogenic pecan pie recipe.
A Nod to Tradition, A Step Toward Health
Pecan pie has been gracing our tables since the late 19th century, a sweet staple originating from the Southern United States. The traditional recipe is a harmonious blend of rich, buttery flavors, and sweet pecans, baked to perfection within a flaky crust. Yet, it's a sugar-laden treat that sends diet plans crumbling. Enter our ketogenic pecan pie, a version tailored for the health-conscious food lover.
Ingredients: Then and Now
Switching from refined sugar to erythritol and a crust foundation of almond flour, we redefine the dessert while preserving its soul. Aesthetically similar but nutritionally superior, the ketogenic pecan pie delivers a slice of comfort with a mere 4g of net carbs per serving.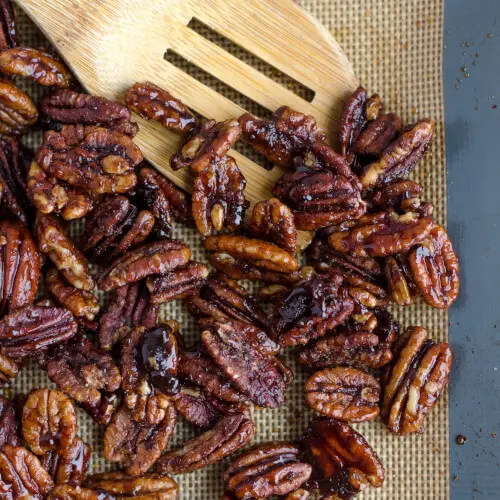 Preparing the Keto Pecan Pie: A Step-by-Step Walkthrough
As we delve into the recipe, you'll appreciate its simplicity. Whether you're a seasoned baker or a culinary novice, crafting this pie is a delightfully straightforward process. As the oven preheats to a toasty 350°F, you'll combine the crust ingredients, press them into your pie dish, and bake until golden.
Meanwhile, a concoction of butter and erythritol will bubble away on your stove, paving the way for the star of the show – the pecans. Infusing the blend with vanilla and cooling it to a comfortable temperature, you'll introduce the eggs to the mix. The final product: a dense, nutty filling ready to make its home in your pre-baked crust.
Variations to Spice Up Your Pie Game
Don't be afraid to get creative with your ketogenic pecan pie. For an added layer of decadence, drizzle your serving with a keto-friendly caramel sauce. Or, for a cool contrast, crown your slice with a dollop of unsweetened whipped cream.
Kitchen Hacks: Making Your Pecan Pie Ahead of Time
The beauty of this recipe is not just its taste but also its convenience. You can prepare the crust and filling separately, store them in the fridge, and combine them just before baking. Voila, a fresh pecan pie ready for the oven without the last-minute rush!
Keto Pecan Pie: Much More Than a Delicious Dessert
In an era where we're increasingly aware of what goes into our bodies, we've seen food evolve from mere sustenance to an instrument of well-being. And what could exemplify this better than our ketogenic pecan pie? Not only does it hit the right spots on your taste buds, but it also aligns with your health goals. So next time you're faced with a pie-shaped void in your life, know that our keto pecan pie recipe awaits your discovery.
In every nutty bite of this dessert, you'll find comfort, joy, and a testament to the fact that embracing a healthier lifestyle doesn't mean bidding farewell to your favorite indulgences. Let's celebrate the sweet things in life – one keto pecan pie slice at a time.
As you savor your pie, remember the pecan's journey from the Southern US to your dessert plate. Take pleasure in the dance of textures and flavors, knowing that this little twist on a classic recipe reflects a broader shift in culinary culture. A culinary culture that cherishes the food we've always loved but doesn't shy away from making it better for us. Not many desserts can boast about being low-carb and rich in nutrients like vitamin E and healthy fats, but our ketogenic pecan pie can.
Recipe Substitutions: Adapting to Your Palette
This recipe, though delightful as is, can be tailored to fit your personal preferences or dietary needs. Not a fan of erythritol? Swap it with other keto-approved sweeteners like stevia or monk fruit. Allergic to almond flour? Coconut flour might be your crust savior, but remember, it absorbs more moisture, so adjust the quantity accordingly. The recipe's beauty lies in its adaptability – a testament to the magic of modern cooking.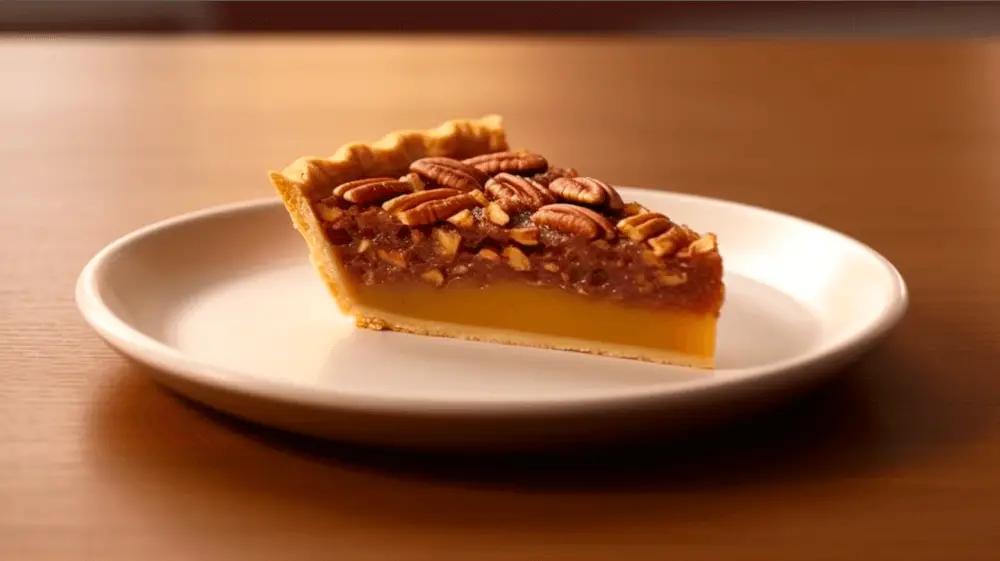 The Keto Pecan Pie: A Celebration of Flavor and Health
So, next time you reach for a slice of pie, make it a piece of this rich, nutty, ketogenic pecan pie. The sweet nostalgia of the classic dessert is kept alive, but with a mindful twist.
A Pie for All Times
Whether you're seeking a guilt-free dessert to share with friends, an indulgent yet healthy treat for a special occasion, or simply a way to satisfy that sweet tooth on your keto journey, this ketogenic pecan pie is the answer. It's a testament that when tradition meets health-conscious innovation, the result can be a delicious revelation.
With this, we draw the curtain on our flavorful journey. Our ketogenic pecan pie isn't just a dessert; it's a celebration of health, history, and the sheer joy of food. Why not dive into this culinary adventure and discover the magic for yourself? After all, life's too short not to savor every healthy, delightful bite!
Remember, it's not just a recipe; it's a new tradition. And in this era where health is a top priority, what could be better than a traditional favorite turned health-conscious delight? Discover the joy of our keto pecan pie recipe today and redefine what dessert can be!
Check out our list of 7 Delicious Low Carb Desserts You'll Adore!
You might also like this recipe for Sugar-Free Keto Pecan Pie from Wholesome Yum.
Print Recipe
Keto Pecan Pie
This is a beginner-friendly recipe for a Keto Pecan Pie, serving 8 slices each containing just 4g of net carbs and 340 calories. The crust is a simple blend of almond flour, butter, erythritol, and a hint of salt, which is pre-baked to perfection. The filling, a savory mixture of pecans, erythritol, butter, eggs, and vanilla extract, is poured into the pre-baked crust and baked until set. The entire process, from preparation to cooking, takes just about an hour. This delightful dessert strikes an excellent balance between taste, health, and convenience, making it a perfect choice for those on a keto diet.
Ingredients
For the Crust:
2

cups

almond flour

3

tablespoons

melted unsalted butter

1

tablespoon

erythritol

A pinch of salt
For the Filling:
1

cup

chopped pecans

3/4

cup

erythritol

1/2

cup

unsalted butter

2

large eggs

1

teaspoon

vanilla extract

1/4

teaspoon

salt
Instructions
Preheat your oven to 350°F (175°C).

In a mixing bowl, combine the almond flour, melted butter, erythritol, and a pinch of salt. Stir until the mixture is well combined and resembles a coarse sand.

Transfer the mixture to a 9-inch pie dish. Press the mixture firmly into the bottom and up the sides of the dish to form the crust.

Bake the crust in the preheated oven for 10 minutes, until it starts to turn golden. Remove and set aside.

While the crust is baking, prepare the filling. Start by melting the butter in a saucepan over medium heat.

Add the erythritol to the melted butter and stir until it's completely dissolved.

Remove the saucepan from the heat and let it cool slightly. Then, whisk in the eggs, one at a time, followed by the vanilla extract and salt.

Stir in the chopped pecans, making sure they are evenly distributed in the mixture.

Pour the pecan mixture over the pre-baked crust.

Return the pie to the oven and bake for 30-35 minutes, or until the filling is set and the crust is a deep golden brown.

Let the pie cool completely before slicing. This will help the filling set and make the pie easier to slice.
Notes
Net Carbs Per Serving: 4g    Calories Per Serving: 340