Click here for more cheap keto meals!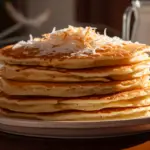 Print Recipe
Coconut Pancakes
This is a Keto Coconut Flour Pancakes recipe, suitable for those following a ketogenic diet. The recipe yields 4 servings with each serving consisting of 2 pancakes, providing 5g of net carbs and 220 calories per serving. Preparation and cooking time combined totals 25 minutes. The recipe involves creating a batter with coconut flour, erythritol, eggs, unsweetened almond milk, baking powder, vanilla extract, and salt. This batter is then cooked on a non-stick skillet with some butter until golden brown. The pancakes can be served hot with various keto-friendly toppings. This recipe balances health, taste, and convenience, making it perfect for beginners in the kitchen or on the keto diet.
Ingredients
1/2

cup

Coconut Flour

4

Large Eggs

1/4

cup

Erythritol

or any other keto-friendly sweetener

1

cup

Unsweetened Almond Milk

1/2

teaspoon

Baking Powder

1/2

teaspoon

Vanilla Extract

2

tablespoons

Unsalted Butter

for frying

Pinch

of Salt
Instructions
In a large bowl, combine the coconut flour, erythritol, baking powder, and salt. Mix well.

In a separate bowl, whisk together the eggs, unsweetened almond milk, and vanilla extract.

Gradually add the wet ingredients to the dry ingredients, stirring constantly until a smooth and slightly thick batter is formed. Let the batter sit for 2-3 minutes to allow the coconut flour to absorb the liquid.

Heat a non-stick skillet over medium heat and melt a small amount of butter to coat the bottom.

Pour 1/4 cup of batter into the skillet for each pancake. Cook until bubbles appear on the surface (about 2-3 minutes), then flip and cook the other side until golden brown (another 2-3 minutes).

Repeat steps 4 and 5 with the remaining batter, adding more butter as needed.

Serve your keto coconut flour pancakes hot, with your choice of keto-friendly toppings such as fresh berries, whipped cream, or sugar-free syrup. Enjoy!
Notes
Net Carbs: 5g per serving Total Calories: 220 calories per serving