Click here for more cheap keto meals!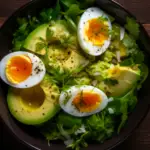 Print Recipe
Avocado and Egg Salad
This Keto Avocado and Egg Salad is a refreshing, satisfying, and easy-to-make dish perfect for any meal of the day. It combines ripe, creamy avocados with tender boiled eggs, crunchy cucumber, and a zingy combination of Dijon mustard, fresh dill, and lemon juice. A touch of mayonnaise brings everything together into a cohesive salad that strikes the perfect balance between rich and refreshing.
Ingredients
4

large eggs

2

ripe avocados

2

tablespoons

mayonnaise

preferably sugar-free for keto

1

tablespoon

Dijon mustard

2

tablespoons

finely chopped fresh dill

Salt and pepper to taste

1

medium cucumber

diced

2

tablespoons

lemon juice
Instructions
Start by placing the eggs in a medium saucepan and cover them with cold water. Make sure the water is at least an inch above the eggs.

Put the saucepan on medium-high heat and bring the water to a boil. Once boiling, turn off the heat, cover the saucepan and let it stand for 9-12 minutes.

While the eggs are cooking, prepare the other ingredients. Slice the avocados in half, remove the pits, and scoop out the flesh into a medium bowl.

Once the eggs are done, drain the hot water and immediately cool them under cold running water or in an ice bath to stop the cooking process. This also makes the shells easier to peel.

Peel the eggs and chop them into small pieces. Add them to the bowl with the avocado.

Add mayonnaise, Dijon mustard, fresh dill, salt, and pepper to the bowl.

Dice the cucumber and add it to the bowl. This will give the salad a refreshing crunch.

Sprinkle the lemon juice over the ingredients in the bowl to prevent the avocado from browning and to add some tanginess to the salad.

Mix everything together until well combined, but be careful not to mash the avocado and egg pieces completely.

Taste the salad and adjust the seasonings (salt, pepper, dill, or lemon juice) as needed.

Serve immediately, or refrigerate for an hour if you prefer your salad cold
Notes
Net Carb Content Per Serving: 3g Total Calorie Count Per Serving: 250 calories