Ever thought about trying a vegan egg salad sandwich? If not, it's time to take a culinary leap. This sandwich is not just a regular meal, but a game-changer that redefines what we think about vegan cuisine. It's unique, flavorful, and packed with healthy ingredients. Curious about why this sandwich stands out? Let's go on a tasty journey together.
First Up: Meeting the Vegan Egg Salad Sandwich
Imagine a perfect summer day. The sun is shining, and you're searching for a lunch that is both delicious and nourishing. Then, you come across the vegan egg salad sandwich. This plant-based delight is a new twist on an old classic. It's filled with contrasting tastes and textures, striking a wonderful balance between enjoyment and well-being. But, just like any good story, this sandwich has its own interesting tale to tell.
Taste Adventure: The Flavor Burst
Wondering what the vegan egg salad sandwich tastes like? Here's a little preview. When you take your first bite, you're introduced to the slightly nutty flavor of tofu. Then comes the refreshing crunch of celery. As you continue, the tangy touch of mustard and apple cider vinegar blends with the creamy texture of vegan mayo. But the magic touch is the black salt, which gives an 'eggy' flavor that's much like a traditional egg salad sandwich. Each bite is like a mini adventure, filled with different flavors that make you want to keep eating.
Healthful Delight: It's More than Just Taste
Don't be fooled into thinking this sandwich is all about the taste. There's a lot more. This sandwich is brimming with health benefits! Tofu, the star of the sandwich, is rich in plant-based protein. The whole grain bread adds much-needed dietary fiber. Add in antioxidant-filled celery and onions, and you've got not just a sandwich, but a well-balanced, nutritious meal.
Make it Yours: Personalizing Your Vegan Egg Salad Sandwich
One of the best parts about the vegan egg salad sandwich is that you can make it your own. Do you enjoy a smokey flavor? You can add a touch of smoked paprika. If you're a fan of spicy food, a pinch of cayenne pepper will give your sandwich a kick.
Don't Worry, Swap it: Switching Up Ingredients
What if you don't have some of the ingredients on hand? Don't fret! This sandwich recipe is very flexible. Instead of celery, you can use diced bell peppers for a similar crunch. If you're on a gluten-free diet, you can switch the whole grain bread with your favorite gluten-free kind.
Ready Ahead: Meal Prepping Your Vegan Egg Salad Sandwich
This sandwich is a great choice for meal prep. You can make the 'egg' salad ahead of time, store it in the fridge, and then all you need to do the next day is assemble your sandwich. It's a fast, no-fuss lunch that's also healthy.
A Standout Dish: Celebrating the Vegan Egg Salad Sandwich
The vegan egg salad sandwich goes beyond what we typically think about plant-based food. It proves that healthful and flavorful can be a match made in heaven. So, the next time you're wondering what to make for a quick lunch, think about this sandwich. It's worth the try and might just become your new favorite!
A Sneak Peek into the Ingredients
This sandwich might look simple, but it's a power-packed meal. Every ingredient contributes to its unique taste and health profile. Tofu is not only a great source of protein but also contains valuable minerals like calcium and iron. Celery, often underestimated, is high in antioxidants, not to mention the satisfying crunch it brings. Onions provide a good dose of vitamin C, while mustard, apple cider vinegar, and vegan mayo work together to create a harmonious, tangy flavor.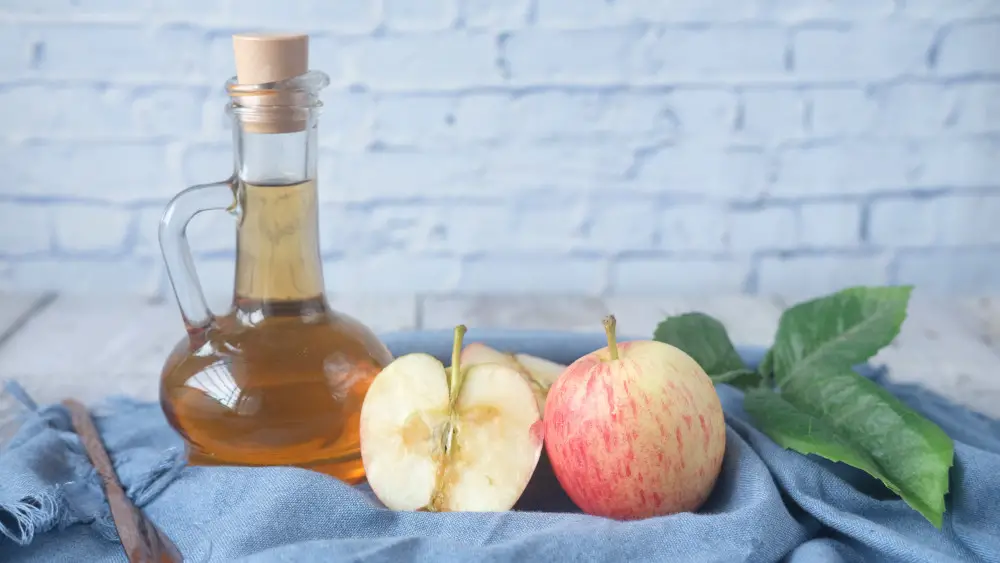 Discover the World of Vegan Mayo
Vegan mayo might be a new concept for some. It's a plant-based alternative to regular mayo, made without eggs. But it is just as creamy and flavorful, if not more. It can be store-bought, or you can make your own at home with ingredients like soy milk, olive oil, and lemon juice. So, when you bite into your vegan egg salad sandwich, remember, the creaminess you're enjoying is 100% plant-based.
Black Salt: The Secret Ingredient
The surprising 'eggy' flavor of the vegan egg salad sandwich comes from black salt, also known as Kala Namak. This is a type of rock salt, commonly used in South Asian cuisine, known for its sulfuric taste, which resembles the flavor of boiled eggs. It's the secret ingredient that makes our vegan 'egg' salad so uncannily similar to its traditional counterpart.
Customize Your Sandwich
Another great thing about the vegan egg salad sandwich is its adaptability. It can accommodate your personal preferences. If you want a bit of sweetness, add some chopped apples or raisins. For a Mediterranean twist, throw in some olives or capers. The possibilities are endless.
Vegan Egg Salad Sandwich: A Meal for All
What's special about the vegan egg salad sandwich is its universal appeal. Whether you're a dedicated vegan, someone trying to eat healthier, or just a curious food lover, this sandwich fits all bills. It's easy to make, nutritious, and caters to diverse dietary preferences. It's a true testament to the magic of plant-based cooking.
As we end this culinary journey, I hope the vegan egg salad sandwich has intrigued you. It's not just another sandwich; it's a combination of creativity, health consciousness, and respect for our planet. It's a proof that eating healthy does not mean compromising on flavor. So here's to the vegan egg salad sandwich – may it inspire you to experiment more with vegan cuisine. Until next time, happy cooking and eating!
You might also like this chickpea egg salad from Kathy's Vegan Kitchen!
Or, try our vegan spinach gnocchi recipe for a fun lunch idea.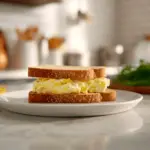 Print Recipe
Vegan Egg Salad Sandwich
This Quick & Easy Vegan Egg Salad Sandwich recipe delivers a tasty and nutritious meal, perfect for vegans and beginners in the kitchen. It uses simple ingredients like tofu, vegan mayonnaise, mustard, celery, red onion, apple cider vinegar, turmeric, and kala namak to mimic the texture and flavor of a traditional egg salad. With only 25 minutes of total time required, the recipe yields 4 servings, each containing 15g of net carbs and 250 calories. The tofu 'egg' salad is assembled between toasted whole grain bread slices, which can be garnished with lettuce and tomatoes. The outcome is a delicious sandwich that is not only vegan-friendly but also healthy and quick to prepare.
Ingredients
1

package

14 oz of extra firm tofu

1/4

cup

of vegan mayonnaise

1

tablespoon

of mustard

1/4

cup

of finely chopped celery

1/4

cup

of finely chopped red onion

1

tablespoon

of apple cider vinegar

1/2

teaspoon

of turmeric

1/2

teaspoon

of kala namak

black salt

Salt and pepper to taste

8

slices

of whole grain bread

Lettuce and tomatoes for garnish

optional
Instructions
Drain the tofu and press it to remove any excess water. You can do this by wrapping the tofu in a clean kitchen towel and placing a heavy object on top for about 10 minutes.

In the meantime, prepare your vegetables. Finely chop the celery and red onion.

In a large bowl, crumble the pressed tofu with your hands until it resembles the consistency of scrambled eggs.

Add the chopped celery and red onion to the bowl.

In a separate small bowl, mix together the vegan mayonnaise, mustard, apple cider vinegar, turmeric, and kala namak. This will be your 'egg' salad dressing.

Pour the dressing over the tofu and vegetables. Stir well to combine everything. Taste and adjust seasoning with salt and pepper if needed.

Toast your whole grain bread slices.

Assemble your sandwiches: Spread a generous amount of the tofu 'egg' salad on one slice of toasted bread. Top with lettuce and tomatoes if desired. Cover with the second slice of bread.

Repeat steps 8 for the remaining sandwiches.

Serve immediately and enjoy your delicious vegan 'egg' salad sandwich!
Notes
Net Carbs: 15g per serving    Calories: 250 kcal per serving