Searching for a culinary venture that complements your vegan lifestyle while setting your taste buds aflutter? Your quest ends here. As an ardent proponent and practitioner of plant-based cooking for many years, I've unearthed a culinary jewel, a vegan gnocchi recipe that I'm confident will leave an indelible mark on your taste memory – the Vegan Spinach Sauce for Gnocchi. This recipe is an exquisite amalgamation of bright, fresh flavors combined with comforting, soul-warming textures, suitable for any season.
An Introduction to the Marvel of Vegan Spinach Sauce for Gnocchi
The gnocchi, small doughy delights of Italian origin, have been an enduring presence at dinner tables since their inception in ancient Rome, providing joy with each bite. Today, we're presenting a green twist to these traditional dumplings, breathing a new life into them with the vibrancy of spinach, creating an irresistible delicacy for our vegan comrades.
Unveiling the Secret Charm of Spinach
At the core of this enticing vegan gnocchi recipe is spinach, the verdant leafy wonder. Endorsed by Popeye and loved by health enthusiasts worldwide, spinach forms the nutritional backbone of this dish. Renowned as a superfood, spinach packs a punch with its impressive nutrient composition. It is low in calories but high in iron, calcium, and Vitamin K, creating a health-boosting symphony of nutrients. When this nutritional powerhouse is paired with the cloud-like softness of gnocchi, it morphs into a meal that feeds your body and soul.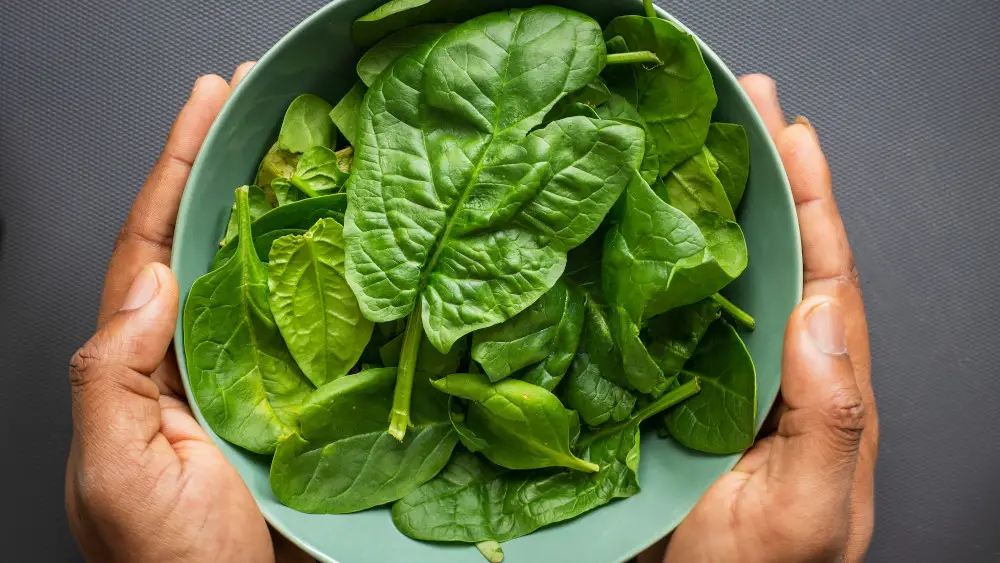 Exploring Variations on the Recipe
The beauty of food lies in its versatility, in the way it allows us to experiment and truly make a dish our own. For those blessed with a creative culinary spirit, this recipe offers ample room for improvisation. Consider replacing spinach with other leafy greens such as kale or Swiss chard, or introduce a tinge of heat with a sprinkle of red chili flakes. The potential for customization is infinite, offering a perfect playground for your foodie imagination.
Guidance on Ingredient Substitutions
Encountering dietary restrictions or finding your pantry missing a few items? Fear not. This vegan gnocchi recipe is as flexible as it is flavorful. The almond milk used in the recipe can easily be replaced with other plant-based milk alternatives, such as soy or oat milk. Likewise, nutritional yeast, celebrated in vegan cooking for its cheesy undertones, can be switched with vegan cheese.
Preparing Ahead: A Lifesaver for Busy Lives
The convenience of this vegan gnocchi recipe extends beyond its easy preparation. It also doubles as a fantastic make-ahead meal. The sauce can be concocted in advance and stored in an airtight container in the refrigerator for up to three days. When you're ready to dive into the dish, just cook the gnocchi, reheat the sauce, marry the two components, and there you have it – a gourmet, homemade meal in mere minutes.
The Tale Behind the Recipe
The inception of this recipe stems from my yearning to marry my adoration for Italian cuisine with my dedication to vegan living. I still vividly recall the first time I prepared it. The simplicity of the process, the harmonious union of the ingredients, and the joy it infused into my dining experience were all overwhelmingly gratifying. Since that day, it has claimed a permanent spot on my dinner rotation, and I am thrilled for it to secure a place in your kitchen and heart as well.
The Experience of Creating Vegan Spinach Sauce for Gnocchi: A Cherished Memory
The journey of creating this dish is as captivating as the act of relishing it. The intoxicating aroma wafting through your kitchen, the striking green hue of the sauce, and the comforting warmth as the spinach sauce intertwines with the gnocchi – it's an experience that stays with you, long after the meal.
Digging Deeper: The Nutritional Benefits and Health Aspects
Apart from its tantalizing taste, the Vegan Spinach Sauce for Gnocchi also shines in terms of nutrition. With spinach, you're introducing a host of beneficial nutrients into your diet. It's rich in fiber, which aids digestion and promotes satiety. The iron content boosts the production of red blood cells, and the high amount of antioxidants in spinach fights against oxidative stress. Moreover, this vegan gnocchi recipe is low in net carbs and calories, making it a suitable addition to various diet plans.
Serving Suggestions: Making Every Meal a Feast
The presentation of a meal plays an essential role in the overall dining experience. While this vegan gnocchi recipe is a feast in itself, you can elevate it further by adding a colorful side salad or a slice of rustic, crusty bread. And let's not forget the beverages – a glass of white wine would beautifully complement the flavors.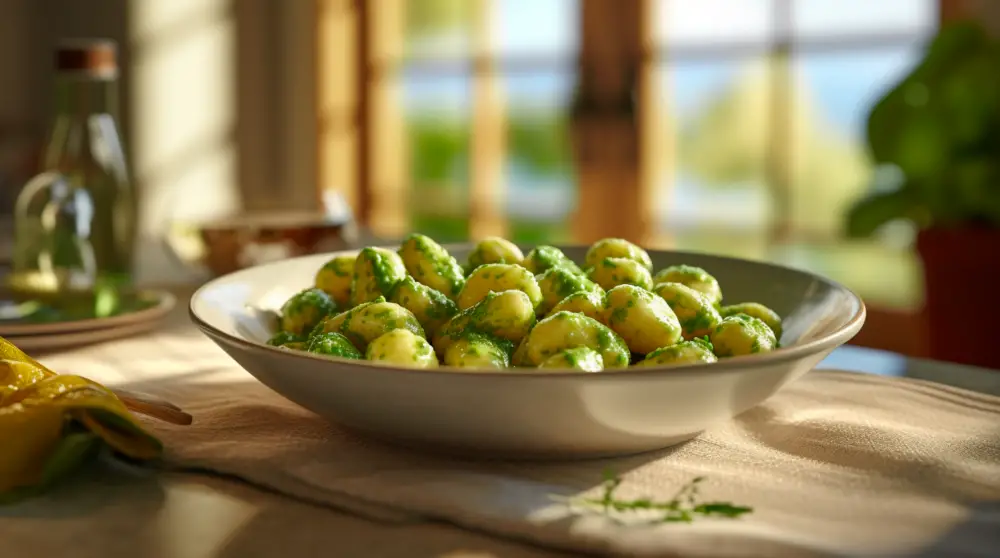 Embracing a More Sustainable Way of Eating
By choosing this vegan gnocchi recipe, you're also taking a step towards a more sustainable lifestyle. Plant-based diets are known for their lower environmental impact compared to meat-based diets. So, in a way, every spoonful of this delightful dish is a nod to Mother Nature and a tribute to sustainable living.
So, for everyone out there, whether you're a vegan veteran or a newcomer exploring the plant-based realm, this vegan gnocchi recipe promises a tantalizing culinary journey waiting to unfold. Are you ready to savor the Vegan Spinach Sauce for Gnocchi and introduce your palate to a new world of flavors? Let the journey begin. Bon appétit!
Check out our other vegan and vegetarian recipes by clicking here!
Feel like making your own gnocchi from scratch? Check out this great recipe from The Curious Chickpea
Print Recipe
High-Protein Vegan Spinach Gnocchi
The Vegan Spinach Sauce for Gnocchi is a nutritious dish that's easy to whip up and packed with flavor. It involves cooking store-bought vegan gnocchi, and then pairing it with a homemade spinach sauce. The sauce incorporates the fresh, vibrant flavors of spinach and garlic, along with the creaminess of almond milk and the savory, cheesy notes of nutritional yeast. Once thickened, the sauce generously coats each piece of gnocchi, making for a hearty, satisfying meal.
Ingredients
1

package of store-bought vegan gnocchi

3

cups

of fresh spinach

2

tablespoons

of olive oil

4

cloves

of garlic

minced

1

cup

of unsweetened almond milk

1/4

cup

of nutritional yeast

Salt and pepper to taste
Instructions
Cook the store-bought gnocchi according to the package instructions. Once cooked, drain and set aside.

While the gnocchi is cooking, heat the olive oil in a large skillet over medium heat. Add the minced garlic and sauté until it becomes fragrant, around 1-2 minutes.

Add the fresh spinach to the skillet and cook until wilted, stirring frequently. This should take about 2-3 minutes.

Pour the unsweetened almond milk into the skillet, then add the nutritional yeast, salt, and pepper. Stir well to combine.

Let the mixture simmer for about 10 minutes, or until it starts to thicken.

Once the sauce has thickened, add the cooked gnocchi to the skillet. Stir gently to coat the gnocchi in the spinach sauce.

Serve the gnocchi immediately. Enjoy your easy, delicious, and healthy Vegan Spinach Gnocchi
Notes
Net Carb Content per Serving: Approximately 15g Total Calorie Count per Serving: Approximately 200 Calories