A New Horizon in Healthy Snacking
As a content writer and an ardent food enthusiast, I've always been fascinated by the evolving world of culinary delights. In this galaxy of gastronomic gems, this granola cluster recipe shines with a charm all its own.
Imagine a healthful, appetizing, and delightfully uncomplicated snack. A snack that quells your midday hunger pangs, fuels your morning rush, and answers your late-night cravings. That's the Banana Oat Cluster. This bite-sized wonder, bursting with nutrients and flavors, is bound to become your new culinary companion, no matter your dietary preferences.
The Banana Oat Cluster: A Symphony of Flavors and Textures
Picture this: a cluster of wholesome rolled oats coupled with the sweet goodness of ripe bananas, held together by the subtle nutty richness of almond butter. Sprinkled within are dark chocolate chips and crunchy walnuts, adding an element of indulgence and texture to the mix. That's the Banana Oat Cluster for you.
Every mouthful of this granola cluster recipe sings a harmonious symphony of diverse textures – the chewiness of oats, the velvety mash of bananas, the satisfying crunch of walnuts. A hint of vanilla laces each bite, a whisper of aroma that complements the subtle sweetness of dark chocolate. It's not just a snack; it's a dance of flavors and textures that invigorates your taste buds.
The Humble Beginnings: An Ode to Simplicity
The Banana Oat Cluster's true beauty lies in its bare simplicity. It's a recipe born out of the universal need for a quick, effortless, yet nourishing snack. It ditches complex cooking techniques, choosing instead to spotlight readily available, easy-to-prepare ingredients. This granola cluster recipe doesn't demand mastery over the culinary arts. It welcomes novices and experts alike, a testament to its humble, accessible nature.
A Gift from the Earth: Appreciating the Ingredients
Let's take a moment to appreciate the humble ensemble of ingredients behind the Banana Oat Cluster. Each of these components carries a tale of its own. The ripe bananas bring to the table not just their natural sweetness, but a wealth of essential vitamins and minerals. The rolled oats, with their high fiber content, promise to keep you satiated while promoting heart health.
Next comes almond butter, contributing a generous dose of protein and healthy fats, adding depth to the flavor profile with its rich, nutty nuances. Let's not forget the flaxseed meal, a silent superfood that introduces Omega-3 fatty acids to the mix. The chopped walnuts further enrich the nutrient profile while adding a delightful crunch. And of course, the vegan dark chocolate chips, a little indulgence that ensures healthy can indeed be tantalizingly delicious.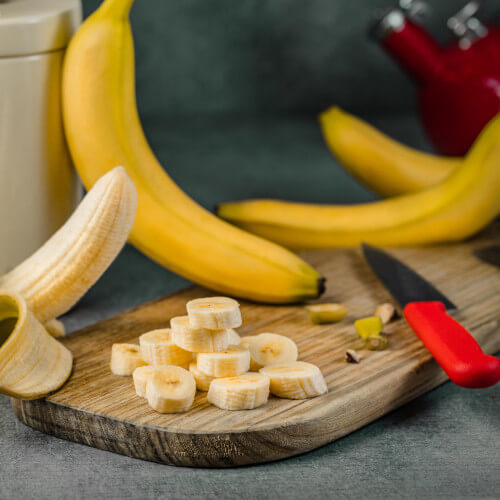 Delightful Variations: Crafting Your Personal Granola Cluster Recipe
The Banana Oat Cluster recipe is an invitation to creativity. Consider this recipe as a guiding path, a foundation upon which you can sprinkle your unique twist. You could swap walnuts with sunflower seeds for a nut-free alternative or substitute dark chocolate chips with dried cranberries for an unexpected tart punch. Consider the addition of spices like cinnamon or nutmeg to introduce a warming element. The variations are as expansive as your culinary imagination.
Plan Ahead: The Joy of Meal Prepping
One of the endearing charms of this granola cluster recipe is its compatibility with meal prepping. A large batch whipped up over the weekend ensures a steady supply of healthy snacks for the entire week ahead. Stored correctly in an airtight container, these clusters retain their delightful crunch and freshness, ready to be your instant snack, breakfast, or dessert during the bustling workweek.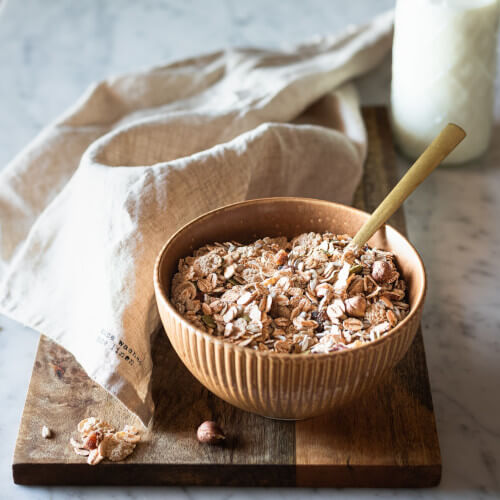 Taste the Magic: A Personal Anecdote
As a food enthusiast and a content writer, I've experimented with a cornucopia of recipes in my quest for the ideal snack. A snack that doesn't demand laborious preparation, compromises neither taste nor health, and caters to a variety of dietary needs. When I first stumbled upon this granola cluster recipe, it felt like uncovering a hidden culinary treasure.
From the first bite, I knew I'd discovered something special. The perfect amalgamation of flavors, the astonishing simplicity of preparation, and the satisfaction of savoring a snack that's as nutritious as it is delectable, combined into an experience that was nothing short of magic. Since that day, the Banana Oat Cluster has held a special place in my kitchen – and in my heart.
Further Explorations: Ingredient Substitutions
The simplicity and versatility of the Banana Oat Cluster allow for a multitude of ingredient substitutions. For those with specific dietary needs, or simply for the adventurous souls seeking new flavor profiles, alternatives abound. Almond butter can be substituted with other nut or seed butters, like cashew butter or sunflower seed butter. Those allergic to nuts can experiment with soy nut butter or tahini.
In place of rolled oats, you might try other whole grains like quinoa flakes or buckwheat. For an added fiber boost, consider partially replacing oats with bran. And while our recipe calls for bananas, other fruits like applesauce or mashed avocados could lend a different, yet equally delightful, sweetness.
Your Turn to Discover the Banana Oat Cluster
With its extraordinary balance of simplicity and flavor, versatility of ingredients, and the sheer joy that each bite delivers, this granola cluster recipe is a true game-changer. It's more than a recipe; it's a portal to a world of nutritious, delicious, and straightforward snacking.
Through this blog post, my intention was not only to introduce you to the marvel that is the Banana Oat Cluster, but to kindle your love for nutritious and tasty food. This journey begins in your kitchen, and I invite you to step in and unravel the magic of the Banana Oat Cluster for yourself. Happy cooking, and even happier snacking!
With every sentence penned in this post, I hope to have ignited your curiosity and inspired you to explore the world of healthy snacking. The Banana Oat Cluster isn't merely a granola cluster recipe; it's a step towards a healthier, tastier lifestyle. The path to this transformation begins in your kitchen. So, are you ready to embark on this culinary adventure?
You might also like our delicious chia seed pudding recipe (click here)
Or check out this easy granola cluster recipe by Gimme Some Oven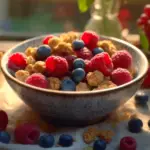 Print Recipe
Banana Oat Clusters
This Banana Oat Clusters recipe is a quick, delicious, and low-carb snack perfect for health-conscious food lovers. Featuring ripe bananas, rolled oats, flaxseed meal, and almond butter as the main components, this recipe blends the wholesome sweetness of bananas with the rich, nutty flavor of almond butter and walnuts. It also adds a little indulgence with vegan dark chocolate chips.
Ingredients
2

ripe bananas

2

cups

rolled oats

2

tablespoons

flaxseed meal

2

tablespoons

almond butter

1/4

cup

chopped walnuts

1/4

cup

dark chocolate chips

make sure they're vegan

1

teaspoon

vanilla extract

1/4

teaspoon

salt
Instructions
Preheat the oven to 350°F (175°C) and line a baking sheet with parchment paper.

In a large bowl, mash the ripe bananas until they're smooth.

To the mashed bananas, add the rolled oats, flaxseed meal, almond butter, chopped walnuts, dark chocolate chips, vanilla extract, and salt. Mix until all the ingredients are well combined.

Use a tablespoon or a small ice cream scoop to drop spoonfuls of the mixture onto the prepared baking sheet. Flatten each spoonful slightly with the back of the spoon or your fingers. Make sure there's some space between each cluster to allow for even baking.

Bake in the preheated oven for about 15 minutes or until the clusters are golden brown on the edges.

Once baked, remove from the oven and let the clusters cool on the baking sheet for 10 minutes. This will help them to firm up.

After cooling, transfer the clusters to a wire rack to cool completely.

Store the cooled Banana Oat Clusters in an airtight container for up to one week.
Notes
Net Carb Content Per Serving: 15g    Total Calorie Count Per Serving: 150 kcal