Are you a self-proclaimed buffalo wings aficionado? Do you struggle with reconciling your love for spicy, tangy goodness with your plant-based lifestyle? Well, let me introduce you to a real game-changer – the vegan buffalo cauliflower. This dish will make your taste buds sing and sway, all while being fully aligned with your vegan values.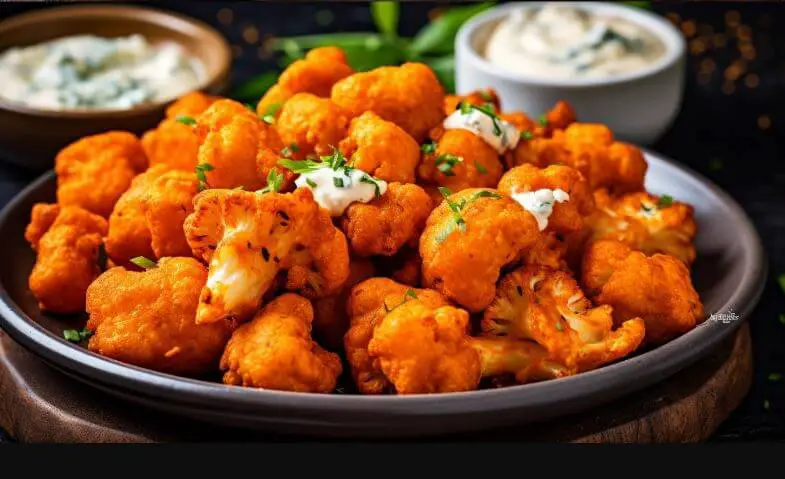 A Tale of Culinary Discovery: The Vegan Buffalo Cauliflower
One fine afternoon, I found myself in an experimental mood. As someone with an unending love for cooking and a newfound appreciation for vegan cuisine, I embarked on a journey to find exciting, vegan-friendly alternatives for classic comfort food. That's when I stumbled upon the concept of vegan buffalo cauliflower bites.
The combination seemed unusual at first. Buffalo sauce… mingling with cauliflower? But let me tell you, my curiosity took me on a wild culinary ride, and I couldn't be happier. This vegan masterpiece is a delicious, spicy, tangy, and shockingly reminiscent treat of the traditional buffalo wings that had me craving seconds and thirds.
The Enigma Unveiled: Why Vegan Buffalo Cauliflower?
So, what is the secret ingredient that makes the vegan buffalo cauliflower a hit among food enthusiasts? The essence lies in the intricate balance of flavors and textures. The cauliflower, when roasted to perfection, achieves a delightfully chewy, meat-like texture. This heartiness is then beautifully complemented by the tangy, spicy thrill of the buffalo sauce.
And there's a cherry on top – this delectable treat isn't just a guilty pleasure. On the contrary, it's low in calories and packed with essential nutrients, including vitamins C and K, fiber, and antioxidants. It's a win-win, right?
The Magic behind Vegan Buffalo Cauliflower
What makes vegan buffalo cauliflower so special? It all boils down to the harmony of flavors. The cauliflower, when roasted just right, develops a meaty texture that perfectly carries the bold, hot, and zingy buffalo sauce. What's even better is that you can indulge in this snack without the guilt—it's packed with nutrients like Vitamin C, K, and fiber, and it's low in calories too!
Crafting Your Own Vegan Buffalo Cauliflower Masterpiece
Although this dish might sound gourmet, creating it in the comfort of your kitchen is surprisingly simple. You'll need a fresh head of cauliflower, some tangy hot sauce, a bit of olive oil, garlic powder, salt, and all-purpose flour. If you're aiming for a gluten-free meal, feel free to swap the flour with a chickpea or almond alternative.
The process involves tossing the cauliflower in a batter, baking it until crispy, then coating it with a mouth-watering sauce, and baking it once more. The outcome? Crispy on the outside, tender on the inside, vegan buffalo cauliflower bites that will leave you and your guests mesmerized.
Easy Variations to Suit Every Palate
The beauty of this recipe is that you can modify it to match your preferences. If you're not a fan of spicy, dial down the hot sauce or use a milder one. Need some extra crunch? Add panko breadcrumbs to the batter. Want it gluten-free? Use chickpea flour instead of all-purpose. The possibilities are endless.
The Beauty of Versatility: Easy Variations of Vegan Buffalo Cauliflower
One of the many reasons I adore this recipe is its versatility. The vegan buffalo cauliflower can be modified to cater to an array of palates and dietary preferences.
Are you not a fan of fiery spices? Reduce the quantity of hot sauce or choose a milder variant. Are you seeking some extra crunch? Toss some panko breadcrumbs into the batter. Looking for a gluten-free variant? Substitute the all-purpose flour with chickpea flour. The vegan buffalo cauliflower can shape-shift to please every taste bud.
Meal Prepping with Vegan Buffalo Cauliflower
Among its many benefits, the vegan buffalo cauliflower also makes an excellent candidate for meal prepping. The cauliflower can be cut and coated with batter in advance and refrigerated. When hunger strikes or guests arrive unexpectedly, all you need to do is pop it in the oven, slather it with sauce, and bake it again. Voila! A quick, easy, and utterly divine meal is ready to be savored.
Beyond the Bite: The Significance of Vegan Buffalo Cauliflower
The vegan buffalo cauliflower isn't just a mouth-watering snack. It's a culinary beacon, illuminating the extraordinary versatility and satiating nature of plant-based cuisine. This snack invites us to reassess our food choices, experiment with novel flavors, and take strides towards a healthier, more compassionate lifestyle.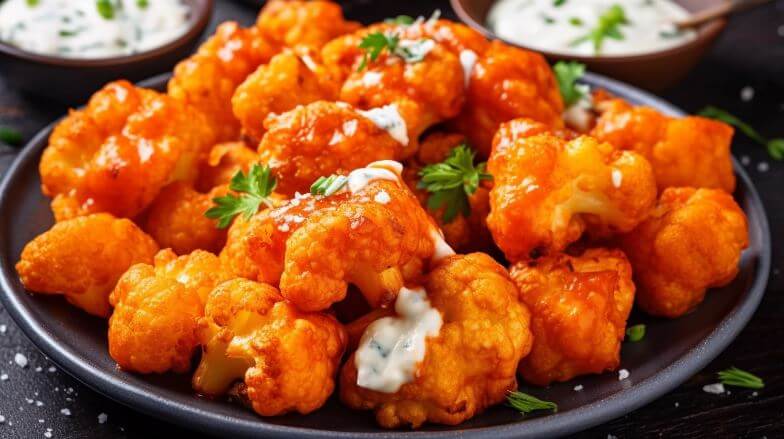 Wrapping Up: More Than Just a Vegan Snack
The vegan buffalo cauliflower offers a lot more than a simple, tasty snack. It's a testament to the creativity of plant-based cuisine, a sign that vegan dishes can be just as satisfying, if not more so, than their meaty counterparts. It invites us to rethink our food choices, explore new flavors, and take a step towards a healthier, more compassionate lifestyle.
That's all for this vegan culinary adventure! I hope you're now inspired to whip up your own batch of vegan buffalo cauliflower bites. Trust me, once you've had a taste, you'll wonder how you ever lived without them. But be warned: they're seriously addictive.
Looking forward to our next kitchen journey! Until then, keep exploring, keep tasting, and above all, keep enjoying the vibrant world of vegan cuisine.
Remember to subscribe and share this delicious discovery with your friends. Because good food is meant to be shared, right?
Furthermore, if you're craving something sweet and delightful, allow me to introduce our vegan mochi.
Moreover, if you'd like to try a different take on vegan buffalo cauliflower, here's an alternative recipe that you might find interesting from Loving it Vegan.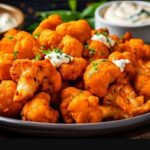 Print Recipe
vegan buffalo cauliflower
This vegan recipe features crispy and flavorful Buffalo Cauliflower Bites. With minimal culinary skills required, this beginner-friendly dish strikes a balance between taste, health, and convenience. Each serving yields 8g of net carbs and 180 calories. The preparation time is 10 minutes, followed by 25 minutes of cooking. Coat cauliflower florets in a batter, bake until golden and crispy, then toss in a tangy buffalo sauce before a final bake. Serve with vegan ranch or blue cheese dressing for a delightful and guilt-free snack or appetizer.
Ingredients
1

large head of cauliflower

1/2

cup

all-purpose flour

1/2

cup

unsweetened plant-based milk

such as almond milk

1

teaspoon

garlic powder

1

teaspoon

onion powder

1/2

teaspoon

paprika

1/2

teaspoon

salt

1/4

teaspoon

black pepper

1/2

cup

buffalo hot sauce

2

tablespoons

vegan butter

melted
Instructions
Preheat the oven to 450°F (230°C). Line a baking sheet with parchment paper and set aside.

Cut the cauliflower into bite-sized florets, discarding the tough stem. Rinse the florets under cold water and pat them dry with a kitchen towel.

In a medium-sized bowl, whisk together the all-purpose flour, plant-based milk, garlic powder, onion powder, paprika, salt, and black pepper until well combined. The mixture should have a smooth, slightly thick consistency.

Dip each cauliflower floret into the flour mixture, making sure to coat it evenly. Shake off any excess batter and place the coated florets in a single layer on the prepared baking sheet.

Bake the cauliflower in the preheated oven for 20 minutes, or until they are golden brown and crispy.

While the cauliflower is baking, prepare the buffalo sauce. In a small bowl, combine the buffalo hot sauce and melted vegan butter. Stir until the ingredients are well incorporated.

Remove the cauliflower from the oven and carefully transfer the baked florets to a large mixing bowl. Pour the buffalo sauce over the cauliflower and gently toss until all the florets are evenly coated.

Return the coated cauliflower to the baking sheet and bake for an additional 5 minutes. This will help the sauce adhere to the florets and give them a nice glaze.

Remove the cauliflower from the oven and let it cool for a few minutes before serving. Serve the vegan buffalo cauliflower bites with your favorite vegan ranch or blue cheese dressing, and enjoy!
Notes
Net Carbs per Serving: 8g  Calories per Serving: 180