Unearthing the Magic of Creamy Low Carb Chicken Alfredo
Ah, the captivating world of culinary arts! It whispers tales of flavors, textures, and memories encapsulated in every bite. Throughout my gastronomic adventures, certain dishes have left an indelible mark, and nestled among these elite is the creamy low carb chicken alfredo with zucchini noodles.
A Love Affair with Pasta, Reimagined
Recall the first embrace of alfredo on your palate? That creamy, velvety sensation, its scent teasing your senses even before that delightful first mouthful. Now reimagine this, embodying a healthful twist that gifts taste without guilt. This is where zucchini noodles gracefully waltz in.
A Dip into the Past
The tale of Alfredo began in Rome's heart, stemming from a loving husband's desire to create a comforting dish for his under-the-weather wife using butter and parmesan. As years rolled on, this tale enriched, embracing creamier versions. Today, we stand at another crossroad, where health marries history in the form of creamy low carb chicken alfredo.
More than Just a Dish, It's an Experience
This dish serenades with its contrasts. Tender chicken swathed in lush alfredo sauce stands in delightful opposition to zucchini noodles' delicate crunch. It's an ensemble of flavors, a testament to traditional and contemporary culinary artistry's splendid union.
Tweaking to Your Taste
Spice Seekers: For those who chase a hint of spice, consider infusing your alfredo with a sprinkle of red pepper flakes or a dash of cayenne.
Dairy Dilemmas: Lactose intolerant or just seeking a non-dairy alternative? Coconut cream offers richness, or try almond milk for a lighter touch. Don't forget nutritional yeast or vegan parmesan for that cheesy flavor without the actual cheese.
Vegetable Varieties: While zucchini noodles (or 'zoodles') are our star, feel free to experiment! Swap in butternut squash or sweet potato spirals for a subtle sweetness.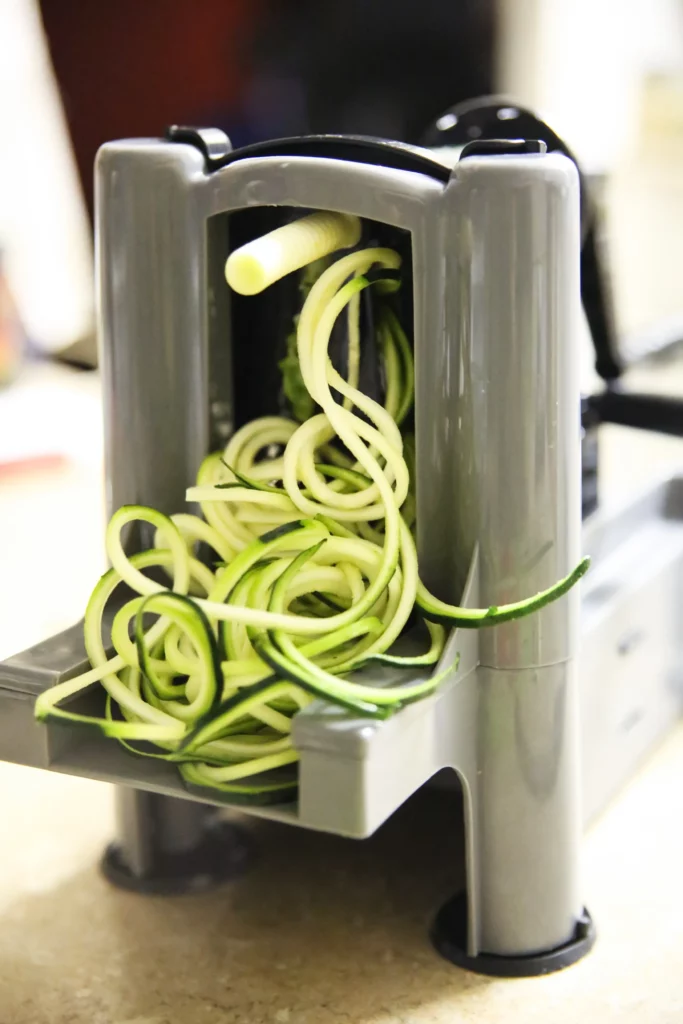 The Make-Ahead Marvel
The creamy low carb chicken alfredo is a gift for those tight on time but unwilling to compromise on quality.
Sauce Storage: Whip up the alfredo sauce in advance and refrigerate it in an airtight container. It'll graciously wait for up to three days.
Chicken Chronicles: Pre-cooked chicken slices can be stored separately. Reheat gently to retain its succulence.
Noodling Around: Zucchini releases water upon resting. If pre-spiralizing, store raw zoodles in a container with a paper towel to absorb excess moisture. Use within two days for optimal freshness.
The Low-Carb Revolution
In an era where 'low-carb' isn't just a buzzword but a lifestyle, dishes like our creamy low carb chicken alfredo stand tall. They proclaim that dietary choices need not be dull, that taste and health can coexist in jubilant harmony.
Conclusion
The creamy low carb chicken alfredo with zucchini noodles isn't just another recipe. It's an experience, an ode, a tale told over generations with new chapters added by innovative food enthusiasts like us. It beckons, inviting you to explore the depths of its flavors and the story behind each ingredient.
If you like this dish, try our low carb broccoli casserole by clicking here
Or, check out this creamy garlic butter parmesan chicken from Low Carbing Among Friends!
Print Recipe
Creamy Low Carb Chicken Alfredo with Zucchini Noodles
Indulge in this creamy low carb chicken alfredo with zucchini noodles, perfect for a guilt-free dinner. Succulent chicken paired with a rich alfredo sauce, served over fresh zucchini noodles. A delightful twist on a classic, ready in just 35 minutes!
Ingredients
4

medium zucchinis

about 2 lbs

2

tbsp

olive oil

4

boneless

skinless chicken breasts

Salt and pepper

to taste

4

cloves

garlic

minced

1

cup

heavy cream

1

cup

grated Parmesan cheese

2

tbsp

unsalted butter

1/4

tsp

nutmeg

optional

Fresh parsley

chopped (for garnish)

Red pepper flakes

for garnish, optional
Instructions
Prepare Zucchini Noodles:
Wash and trim the zucchinis. Use a spiralizer or a julienne peeler to create zucchini noodles. Set aside.
Cook the Chicken:
Season chicken breasts with salt and pepper.

In a large skillet over medium heat, add olive oil. Once hot, add the chicken breasts. Cook for 5-7 minutes on each side, or until fully cooked. Remove from the pan and set aside.
Prepare the Alfredo Sauce:
In the same skillet, add butter and minced garlic. Sauté until fragrant (about 1 minute).

Add the heavy cream, Parmesan cheese, and nutmeg (if using). Stir well and allow the sauce to simmer for 3-4 minutes or until it starts to thicken. Season with salt and pepper to taste.
Combine Chicken and Sauce:
Slice the cooked chicken breasts into strips and add them back to the skillet with the sauce. Let them simmer for another 2 minutes in the sauce.
Cook Zucchini Noodles:
In a separate pan, heat a little olive oil over medium heat. Add the zucchini noodles and sauté for 2-3 minutes, just until tender but still al dente.
Serve:
Plate the zucchini noodles, top with the creamy chicken alfredo. Garnish with fresh parsley and optional red pepper flakes.
Notes
Nutritional Information (per serving):
Calories: 520 kcal
Protein: 35g
Carbs: 8g (Net carbs: 6g)
Fat: 40g
Note: Nutritional values are approximate and can vary based on specific ingredients used. Prep Time: 15 minutes
Cook Time: 20 minutes
Total Time: 35 minutes